January is National Stalking Awareness Month
January 24, 2023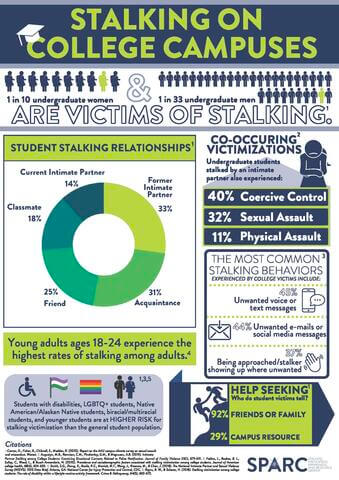 January 2023 marks the nineteenth annual National Stalking Awareness Month (NSAM), an annual call to action to recognize and respond to the serious issue of stalking.
Click here to enlarge and review the infographic providing statistics on stalking on college campuses.
What is Stalking? Stalking is defined as a pattern of behavior directed at a specific person that would cause a reasonable person to fear for their safety or the safety of others; or suffer substantial emotional distress. Stalking is prohibited under the Howard University Policy Prohibiting Sex and Gender-Based Discrimination, Sexual Misconduct and Retaliation (aka, the Title IX Policy). Learn more: Stalking FAQs
How can I report Stalking? Concerns about stalking involving members of the Howard University community can be reported to the Title IX Office, the Department of Public Safety (HUDPS), and/or to local law enforcement (911). Students can also seek confidential support services from the Interpersonal Violence Prevention Program (IVPP), University Counseling Service, or Office of the Chaplains. Howard faculty and staff can seek confidential support services through the Employee Assistance Program (EAP).
Read the White House Proclamation on National Stalking Awareness Month, 2023.
Infographic provided by SPARC, the Stalking Prevention, Awareness, & Resource Center. Learn more and find additional resources at stalkingawareness.org.
Categories
Title IX