Free Walk-In Covid-19 Vaccine Clinic on Friday, June 25
June 21, 2021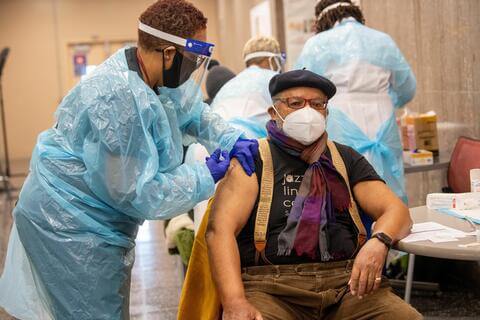 As part of the effort to ensure a safe return to campus, Howard University will host a campus-wide Free COVID-19 Vaccination Clinic Day for employees, faculty, staff and students on Friday, June 25, from 9 a.m. to 2 p.m.
No registration is required. Vaccinations will take place in the College of Medicine, on the first floor of the Numa P.G. Adams Building, at 508 W St. NW.
Vaccinations will be free for all Howard University and Howard University family, which encompasses employees, faculty, staff and students in the region.
Howard University is planning a phased-in return to campus for employees. The phases have been developed based on the current guidance of the Centers for Disease Control and Prevention (CDC) and the DC department of health, as well as a review of other best practices to support the successful reentry of our campus community. Read the full plan here.
Howard University's pandemic response is built with the goals of Bison S.A.F.E. at heart: Supporting our community; Advocating for high-risk populations; Facilitating ethical, culturally sensitive and inclusive research; and Educating the public on best practices for safety.
Categories
Bison S.A.F.E.