Health Updates for the Campus Community
September 1, 2021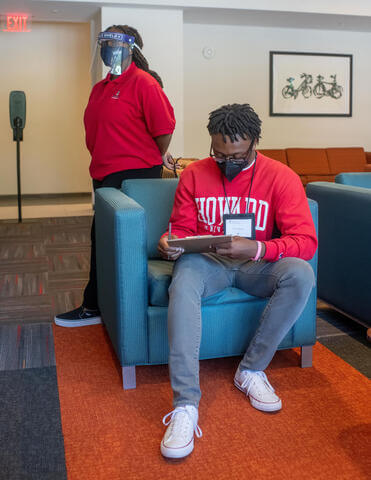 Dear Howard University Community,
 
We are writing to share COVID-19 updates important to the campus. The health and safety of our campus remains the top priority for the University. As indicated in previous communications, the new Delta variant has a significantly higher transmission rate. What we know is that while the transfer rates are higher, being fully vaccinated significantly decreases the chances for severe symptoms causing hospitalization. As of Monday, August 29, 2021, nearly 80 percent (79 percent) of students had submitted proof of vaccination or received an approved medical or religious exemption. In addition, we continue to review nearly 1,000 submissions provided after the August 1, 2021 deadline or that were emailed to Student Health rather than submitted to the MedProctor portal. Further, 100 percent of students in residential housing are fully vaccinated. To date, 1,086 employees have uploaded their vaccine records in Workday. We will continue to provide additional training to support the uploading process.

In the past week, we have expanded our testing. We have tested four times as many students and faculty as at the beginning of the month. This means we may expect to see our positivity rate increase since many cases may be asymptomatic. Each Monday, we update our COVID-19 dashboard to ensure that we all can track our positivity rates together. Since completing over 3,216 tests so far in August, we have identified 33 new cases, resulting in an overall positivity rate of 1.2 percent. This remains in line with our positivity rates throughout the year. To give further context, our rates continue to be significantly lower than the city's overall positivity rate of 2.9 percent. Keeping with our campus health protocols, we continue to implement the contact tracing process, and continue testing close contacts as they are identified. We also, conduct standard deep cleaning in classrooms and office spaces appropriately throughout the community.

We want to reiterate that given the nature of the Delta variant, we can expect to see additional positive cases. Our goal is to continue to ensure that the positivity rates remain low through our masking, testing, vaccination and other public health policies. Within the small numbers who have tested positive, there have been only a fraction of those who have experienced any symptoms which have been mild. We have been fortunate to have had no hospitalizations this semester to date.

We wish to remind everyone to continue to follow the public health guidelines that have been developed for the campus community. We will continue to expand testing and will provide updates on all of our test results on a weekly basis on the Howard University
website.

Additional details regarding the full testing, quarantine and tracing protocols are available on the testing and protocol page of the Bison Safe website. Below are some of the highlights from those pages:

If students test positive, the results will be reported to the respective schools' student affairs representatives considering the public health risks and the safety of the University community. Students who test positive must obtain clearance for return to class/campus from the Student Health Center prior to return.

If employees test positive, their supervisors will be notified that they are not able to be on campus. Employees must secure clearance to return to campus by demonstrating two negative PCR tests 24 hours apart prior to returning to campus. Testing will be offered via the testing center (Room 3600 FPP Hospital Towers Building) for those who need it.

If students or employees obtain a positive test result from an external testing site, they should report this in the Bison Safe app. (Please answer "yes" to the question regarding testing positive in the last 10 days.) That will trigger our protocols. Students may also report a positive test by notifying the Resident Director of a dormitory, if the student lives in campus housing, or by contacting the Student Health Center (202-806-7540), or via shcscreening@howard.edu. The Student Health Center is open from 8:30 a.m. to 5:00 p.m.

As a reminder, you can visit the Bison Safe website to: 
If you have any questions regarding your health, please contact Student Health Center at 202-806-7540 or by email at shcscreening@howard.edu.

Thank you for your ongoing support and cooperation as we work together to keep our community safe, and we will continue to keep the community informed of important health information.
Categories
Bison S.A.F.E. and Vaccination Requirements