Health and Safety Awareness Week, March 20-24
March 21, 2023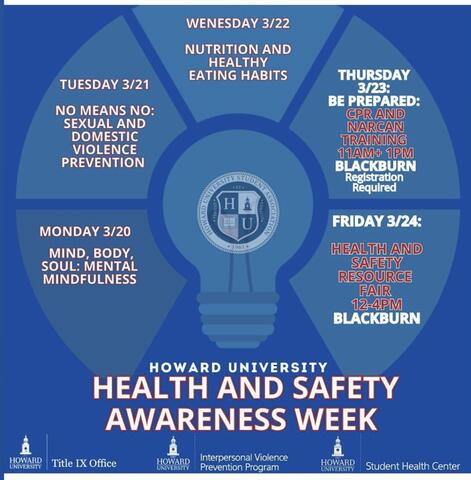 The Howard University Student Association is excited to announce the Department of Campus Health's "Health and Safety Week," in partnership with the Student Health Center, the Interpersonal Violence Prevention Program (IVPP), and the Title IX Office.
Monday 3/20 - Mind, Body, Soul: Mental Mindfulness
Tuesday 3/21 - No Means No: Sexual and Domestic Violence Prevention
Wednesday 3/22 - Nutrition and Healthy Eating Habits
Thursday 3/23 - Be Prepared: CPR and NARCAN Training @ Blackburn. 11 AM - 1 PM. Registration required. REGISTER HERE.
Friday 3/24 - Health and Safety Resource Fair @ Blackburn. 12 - 4 PM.
Follow @husassociation and stay up to date via HUSA's Instagram story. 
Categories
Title IX