Bison S.A.F.E.: The University's Safety Response App
What is BisonS.A.F.E?
The BisonS.A.F.E. app is powered to integrate seamlessly with Howard University's safety and security systems to keep our community safer and informed. It is designed to provide you with essential resources and real-time alerts while on or near campus.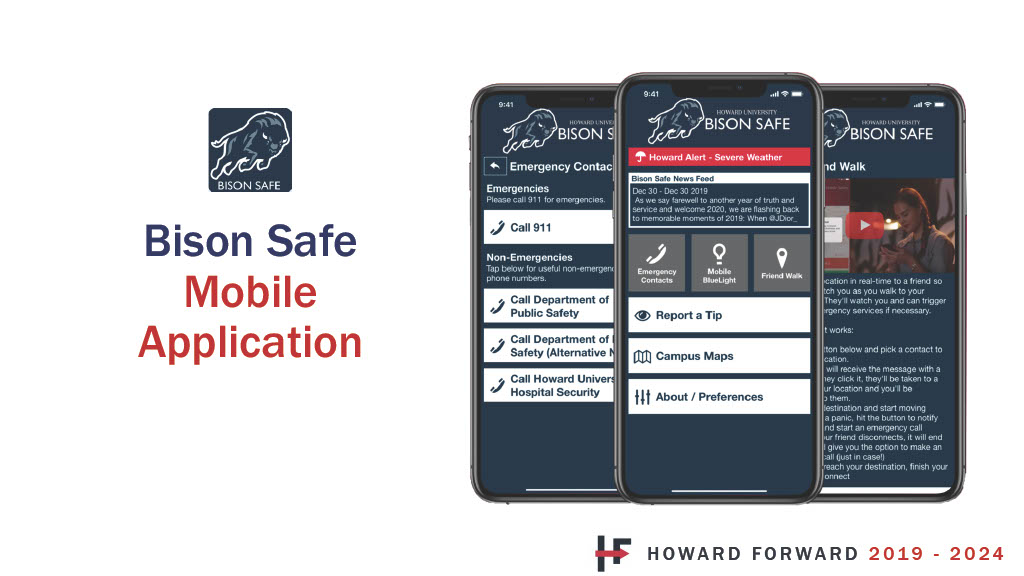 What Does Bison S.A.F.E Mean?
Bison S.A.F.E. is more than just an app; it is a commitment to the safety and well-being of our students. Its name reflects the core principles that guide our university:
S

upporting our Community: Bison S.A.F.E. reinforces this commitment by facilitating communication, support, and shared responsibility among our students, staff, and faculty.

A

dvocating for at-risk populations: The app ensures that we can extend a helping hand to members of our community who may be more vulnerable, especially to those who are at risk.

F

acilitating ethical, culturally sensitive, and inclusive research: Bison S.A.F.E. promotes these values by collecting and using data responsibly to improve safety measures.

E

ducating the public on best safety practices: Bison S.A.F.E. educates our community on the best safety practices, ensuring that all students are well-informed and equipped to navigate campus safely.
Key Features of Bison S.A.F.E. App
Emergency Alerts: Receive real-time alerts about critical situations on campus, ensuring you stay informed and can take appropriate action.
Campus Safety Resources: Gain instant access to a wide range of safety resources, including emergency contacts, maps, and procedures.
Safety Tips: Stay informed with the latest safety tips and best practices so you are always prepared.
Community Support: Connect with your fellow Bison and build a safer campus community together.
How to Get Started:
Using the Bison S.A.F.E. App is simple and convenient. Follow these steps:
Download: Head to your app store, search for "Bison S.A.F.E.," and download the app to your smartphone.
Sign Up: Register using your Howard University credentials to gain access to all features.
Stay Informed: Allow push notifications to receive emergency alerts and stay informed about important updates.
Campus Safety & Well-Being Announcements