A Pride Month Message from the Division of Student Affairs
June 10, 2022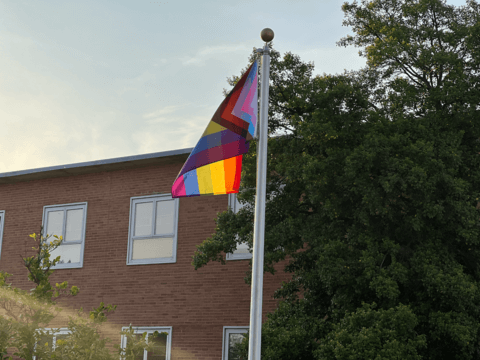 An Unwavering Commitment to the Ideals of Inclusiveness
Dear Howard University Community, 

With Pride Month underway, we are excited to celebrate the contributions of those who represent and support the LGBTQ+ community on Howard's campus and beyond.

I am also pleased to share that we rank first among all HBCUs for LGBTQ+ students by BestColleges.com in partnership with Campus Pride, the premier national organization for college students seeking support and resources for LGBTQ+ issues on college campuses. This 2022 national distinction marks the first time for rankings among HBCUs with Campus Pride, and we could not be more proud of this honor. Read the full article here.

During the month of June, we join with individuals and groups around the globe in recognizing the identities among our students, faculty and staff, reinforcing our unwavering commitment to the ideals of inclusiveness and understanding throughout the broader community.

As Dr. Frederick shared earlier this week, we continue to expand and advance the impact of our LGBTQ+ efforts to foster an environment of support and intentionality. I am immensely proud of the work being done across our campus community each day that gives students and others a sense of belonging and hope for a brighter future.

Specifically, the newly created Office of Intercultural Affairs and LGBTQ+ Resource Center provides a dedicated space for students to gather, collaborate and brainstorm about exciting activities and programming. It also provides valuable on-campus and community resources for LGBTQ+ students to access as an added layer of support and administers the Lavender Fund Scholarship.

For certain, the upcoming academic year will bring a sense of renewed focus and increased energy for all to learn, grow and thrive. Throughout Pride Month, we invite you to follow along our path in highlighting the purposeful ways in which the LGBTQ+ community at Howard contributes to the vitality of our campus.

From individual stories with students, alums and faculty involved in everything from the arts, advocacy and gender research, to introducing the people working behind the scenes in the Intercultural Affairs and LGBTQ+ Resource Center, there is cause for celebration.

At Howard, the Division of Student Affairs is committed to inclusion for all. It is more than something that we do — it is who we are.
Please be sure to connect with us on social media for updates on our progress and engagement throughout the year.
Excellence in Truth and Service, 

Cynthia Evers, Ed.D.
Vice President of Student Affairs
Categories
Title IX