August 20, 2021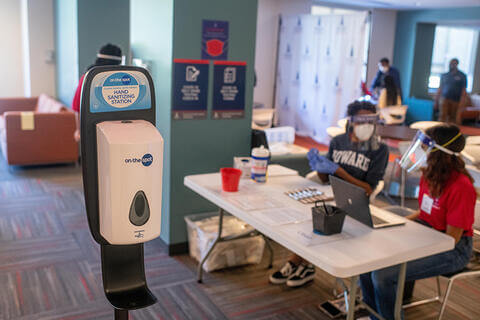 Dear Howard University Faculty, Staff and Students,
Despite herculean efforts, the pandemic has continued to put strains on global supply chains and timelines, which has affected the early occupancy of Frederick Douglass Memorial Hall for the start of the Fall semester. In light of these impacts, we anticipate use of Douglass Hall on Monday, September 13, pending final delivery and installation of critical mechanical equipment required to obtain the building's certificate of occupancy.  
My leadership team is working closely with Rubin Patterson, Ph.D., dean of the College of Arts and Sciences, and his team to support a smooth return into the newly renovated Douglass Hall. The revised occupancy schedule will require instruction to occur virtually until the move into Douglass is completed. Today, College of Arts and Sciences leadership received a hard-hat tour of Douglass Hall to see the progress made and had a firsthand look at upgrades and enhancements.  
The team is also working with Gracie Lawson-Borders, Ph.D., dean of the Cathy Hughes School of Communications, to support the transition of the School of Communications as we continue our work to decommission the C.B. Powell Building. We have secured and are making updates to the former Washington Metropolitan High School Building, a short distance from C.B. Powell, to support the program's operations. The Real Estate Development & Capital Asset Management (REDCAM) team is also working diligently to accommodate other occupants of the C.B. Powell Building with alternative options.  
Our goal is to ensure state-of-the-art facilities for the best learning outcomes for our faculty, staff and students. Together, we're delivering on those goals, and working expeditiously to mitigate disruption and hiccups related to the pandemic. We appreciate your patience and ongoing agility in our facility efforts.  
We will continue to provide updates to the University community as we implement the academic renewal outlined in our 2020 Central Campus Master Plan. 
Excellence in Truth and Service,  
Wayne A. I. Frederick
Charles R. Drew Professor of Surgery 
President 
Categories
Bison S.A.F.E.