Title IX Signed Into Law 50 Years Ago Today
June 23, 2022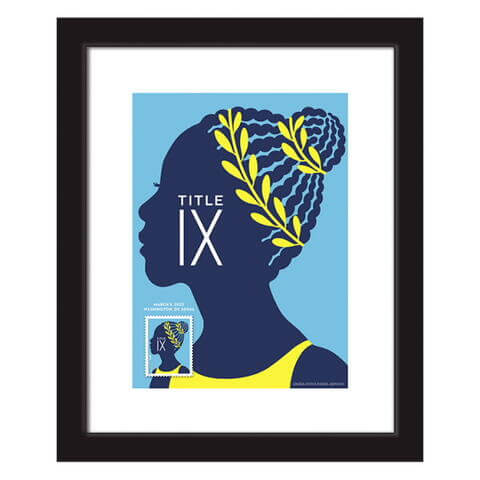 Today marks the 50th anniversary of Title IX, the federal law designed to ensure gender equity in education programs and activities receiving federal funding, and to protect students – as well as faculty and staff – from sex or gender-based discrimination. Title IX was signed into law by President Richard Nixon on June 13, 1972, and was developed and shepherded through Congress in large part by Rep. Patsy Mink, a Democrat from Hawaii and the first woman of color elected to the U.S. House of Representatives.
The Title IX statute is one sentence (or 37 words) long, and states:
"No person in the United States shall, on the basis of sex, be excluded from participation in, be denied the benefits of, or be subjected to discrimination under any education program or activity receiving Federal financial assistance."
To help ensure that all members of our community can learn, live, and work in an environment free from sex and gender-based discrimination, harassment, and violence, with fair and equitable access to university programs, activities, and resources, regardless of sex, gender, gender identity, gender expression, sexual orientation, or pregnancy, Howard University established the Title IX Office; Policy Prohibiting Sex and Gender-Based Discrimination, Sexual Misconduct and Retaliation (aka, the Title IX Policy); the Interpersonal Violence Prevention Program (IVPP); and a range of resources for reporting, confidential support services, advocacy, and education.
In the months leading up to this important anniversary, Howard University has marked the occasion by leading and participating in several public conversations focused on the past, present, and future of Title IX, including:
Title IX @ 50: Where We've Been and Where We Need to Go - In March, the Title IX Office and the Center for Women, Gender and Global Leadership hosted a special Women's History Month conversation with Tanyka Barber from the Association of Title IX Administrators (ATIXA). Ms. Barber discussed Title IX's impact on gender equity in higher education, from college athletics to institutional responses to gender-based harassment and violence; explored some lesser-known aspects of Title IX, including its protections against discrimination based on gender identity, sexual orientation, and pregnancy; and reflected on the specific challenges and opportunities facing HBCU's as relates to Title IX. You can watch the conversation here.
The 19th Represents Summit – In June, The 19th News dedicated their third annual Summit to the 50th anniversary of Title IX, featuring conversations with leaders across many fields about the future work of gender equality. In addition to keynotes from Senator Elizabeth Warren, Education Secretary Miguel Cardona and WNBA star Candace Parker – as well as conversations on protections for LGBTQ+ students, pregnancy discrimination, the gender pay gap and much more – the Summit featured participation from Howard University leaders:

Gender Equity on Campus – Howard University Title IX Director Jessica White shared her experience and insights on leading Title IX applications on campus, adapting to different rules and expectations with each presidential administration, and meeting the needs of diverse communities of students. Watch the conversation here.
On College Sports – Howard Softball Coach Tori Tyson participated in a conversation with former college athletes about the importance of investment in women's sports and its outsized impact on college athletes' ability to find success outside of sports. You can watch this conversation here.
Also, today, the U.S. Department of Education released for public comment proposed changes to the Title IX regulations. According to the Department, "the proposed regulations will advance Title IX's goal of ensuring that no person experiences sex discrimination, sex-based harassment, or sexual violence in education. In addition, the proposed regulations reaffirm the core commitment to fundamental fairness for all parties, respect for freedom of speech and academic freedom, respect for complainants' autonomy, and clear legal obligations that enable robust enforcement of Title IX." The Education Department also said that the proposed regulations will protect students from discrimination based on sexual orientation, gender identity, and sex characteristics, and clarify and confirm protection from retaliation for students, employees, and others who exercise their Title IX rights. Learn more about the proposed regulations here.
Learn more about the history and impact of Title IX through the Associated Press' EXPLAINER: What is Title IX and what impact has it had?
The Title IX Office
Office of the Provost
Categories
Title IX